Hello
It's Matsudaira Riko
2nd generation member from Tokyo
I was able to have a graduation corner on 21st February's "Soko Magattara, Sakurazaka?"
Thank you very much for watching it
I was even more nervous than my first appearance…😳 lol

And the show has always taken care of me since my first appearance in "Keyaki tte Kakenai?"
Sawabe-san, Tsuchida-san, The show's staff,
And to many others who are involved
Thank you very much.
The flower bouquet is in my penlight color 💐♡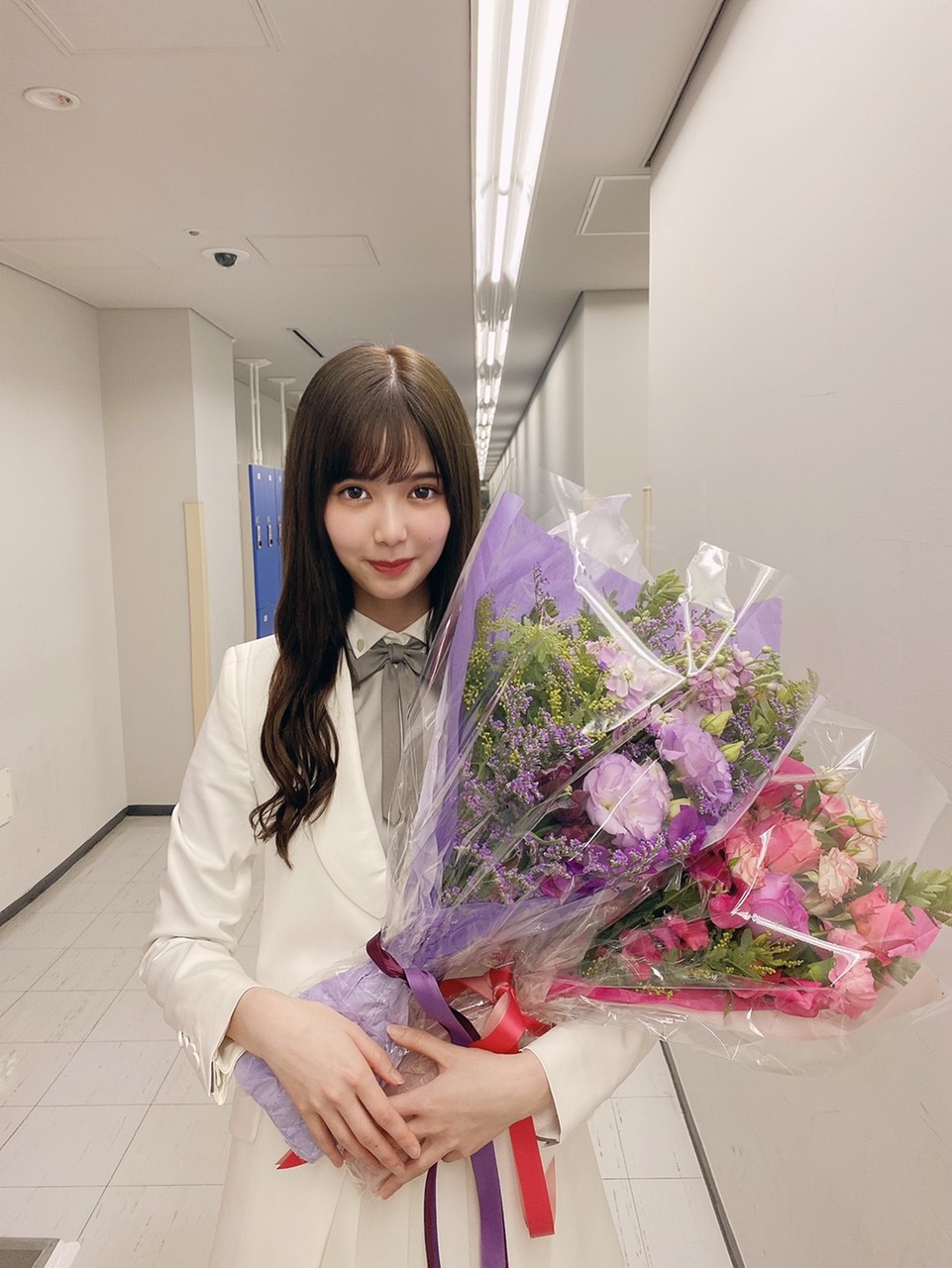 Even now I still remember the time of my self introduction, when I first appear
The dressing room prank, the fight for Sawabe Award, the nervousness from getting paired with senior, physical check…
It's a pity that the location shoot OK-ed by Tsuchida-san couldn't be realized 🤔💭 lol
When I record my graduation comment, all the 2nd generation members stayed behind
After recording, we took pictures together☺️💐
Everyone, thank you for staying behind
All 9 members of 2nd generation took pictures together 💐#YumikoCamera
Such wonderful pictures… So lovely 💐💐💐
After taking pictures, at the end in front of the other 8 I was told, "If you have something that you want to say at the end, you should say it", so I honestly tell them what I am thinking about.
When the 9 of us entered Keyakizaka46 as 2nd generation,
I honestly felt that 2nd generation was not accepted,
We didn't want to destroy the atmosphere of Keyakizaka46 the seniors have created,
We all thought and felt such feelings, and has always held hands and do our best.
Keyakizaka46 was truly the group I admired, and during my time of activity, I was truly happy for the moments where I could perform the songs I admired.
Especially, Eccentric, Fukyouwaon, and Silent Majority that I have personal feelings for.
Anniversary Live, Summer Tour, Republic 2019, Rockin, Tokyo Dome, there are so many memories that I couldn't write them all.
During Keyakizaka Last Live rehearsal, when we were told that all 9 of us could participate in the show, seeing the faces of 2nd generation crying from happiness, my heart was filled with the passion that I have just got to do it. We couldn't make anything, but we can leave something behind in Keyakizaka46.
After the recording ends, while looking at each of them in the eye,
"At first we was just filling in for 1st generation-san
We wondered if we might not be accepted
I think that there were more sad and painful moments than the happy ones during our activity
But I think I was able to overcome all of them because it was with the 8 of you
We all could dance together in Last Live, I have no regrets!
Thank you."
When I said those words honestly, tears started to flow.
After that, everyone hugged me while crying
I was truly happy to be able to work together with my beloved members in Keyakizaka46, Sakurazaka46 💐
It feels like every time the 2nd generation overcame something, we would do a group hug.
Those occasional moments passed in my mind.
Thank you for telling me that you are sad, for crying.
Thank you for always being my friends.
Thank you for laughing and crying with me.
Thank you for getting through this together with me until now.
Thank you for always protecting me.
Thank you for always holding my hand.
Thank you for always hugging me.
There were many things that I were able to overcome because it was the 8 of you.
We've shared so many emotions, haven't we?
I love you guys!!!!!!
This is the first time I ever felt this way about someone.
They are not my friends, they are not my family, but a special presence.
Even if I'm reborn, I want to join Keyakizaka46 again.
Ah, but I do had one regret…
So I thought on the car ride back home lol
I wanted to leave something behind with the 9 of us.
The seniors are really kind from the beginning our our activities
The first time we are performing on the same stage together, when I was crying 5 minutes before the show because I couldn't get my make up done in time, they pulled me by hand and took me to the costume room,
They listened to me when I feel troubled with something,
They keep me company when on the dance parts that I couldn't dance,
My treasured purikura, the first one I took with senior(s) when we walked home together,
How they hugged me and cried before my last LIVE show…
Every day since I joined, I have absorbed and learned so much from the efforts of my seniors behind the scenes, their feelings for the work, and their kindness to others.
I couldn't so easily write down the many feelings of gratitude I have, but this much is certain,
I am truly happy that the first seniors I have in my life was Keyakizaka46's 1st generation members. I'm very grateful for our encounter 💐
The current Hinatazaka46-san, who participated in Kuroi Hitsuji handshake event as Hiragana Keyakizaka-san, talked to the new 2nd generation members while smiling. We barely have the opportunity of working together, but I was glad that they kindly to talked to us.
Matsudaira who is feeling relaxed after recording ends.
Efforts are not always rewarded, but I'll do my best believing that it will be rewarded someday. Those efforts are surely not wasted. I'm sure there will come a day when someone, somewhere, will see it.
From now on, I will make my dream(s) come true on my own.
I'm the first graduatee from Sakurazaka46, so I want to live in a way that will live up to its name, and create (my own) way.
I'd be grateful if you could watch me.
I think that I will be making a lot of detours.
Because I'm a clumsy person… But,
Let me prove that dreams can come true if you never forget to challenge them.
I don't know what the right answer is, but I'm sure I'll find the answer when I look back, so I think that I will live my life in my own way, freely, as I wonder what kind of answer I will get.
Cuteness is always a girl's ally.
To continue to be cute, greedy, and appeal to myself.
(To work with) Ninagawa Mika, who inspired me to become interested in this industry, has been one of my dreams since my debut.
I will do my best.
And more than anything
Please support Sakurazaka46!
Seeing the figure of my beloved members doing my best,
makes me want to do my best as well from now on. It's my motivation.
I'd like to watch over the group as a fan
as it is being dyed with wonderful color(s).
I'm truly sorry
that I decided to graduate at this time.
Short? Big? I feel like I'm writing too long
I wonder if what I want to convey got conveyed 🤔💭?
The last meguri for 1st single is on 14th March
so while there is not even a month left, please treat me well.
I hope that I could make wonderful memories until the end 💐
Today's music
SUPER BEAVER / Arigatou
Well then, see you again.