Sakurazaka46 2nd anniversary project
Project Overview
This year SakuzakaCentral is back with another Anniversary Project for Sakurazaka46! We are aiming for something that is closer and more personal for this time, so we are organizing a postcard project! The collected postcards will be printed, packaged per member, and posted to S&F before 2nd Birthday Live!
*Considering that there's only a month between Sugai Yuuka's graduation and 2nd Anniversary, we decided to include her in this project.
We have allotted 30 slots per member. We will release an announcement once a member's slots are full.
Form link: https://forms.gle/GmQasKCVh9aAgFFHA
DEADLINE: November 27th 2022, 23:59 JST
1. Pick one of the design templates we have prepared from here —-> [link]. Each person is given the opportunity to send to a maximum of three members!
We recommend using Canva
. It helps to ensure consistent image quality/format for printing purposes and will be especially helpful if you don't know much about graphics.
 —-> [DESIGN 1] [DESIGN 2] [DESIGN 3] [DESIGN 4] [DESIGN 5] [DESIGN 6] [DESIGN 7] [YUUKA'S GRAD 1] [YUUKA'S GRAD 2]
 Minimum font size of 10pt for readability. Please pick font that is easy to read.
2. Fill it with your messages. You can add your own fan art, if you wish, as long as the space allows it.
 Please do not use any images that are not your own.
3. Please write your message in Japanese or SIMPLE ENGLISH. Please refrain from relying entirely on machine translation.
 Please refrain from writing things that are inappropriate. We reserve the right to not send your messages if it's deemed inappropriate or defamatory. 
4. Before uploading, please check again to ensure that there are no typo / mistakes.
5. Please name your files with [NAME YOU USE_MEMBER_1], [NAME YOU USE_MEMBER_2], [NAME YOU USE_MEMBER_3]. EXAMPLE= [SAKUSEN_WATANABERISA_1]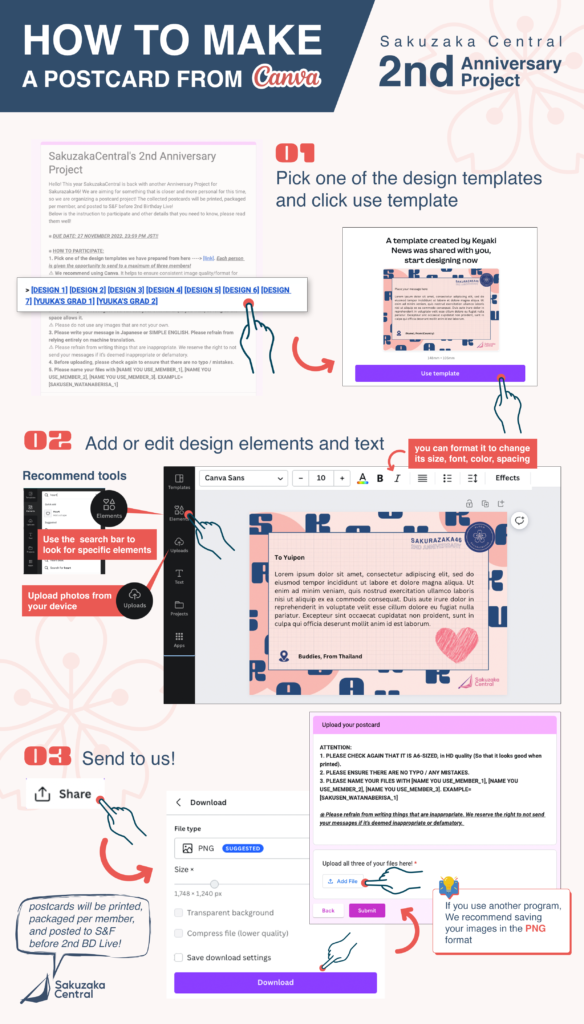 For any questions regarding the project, you may contact us via the following channels: