Thank you for opening the blog!
I'm Sakurazaka46 3rd generation's Taniguchi Airi from Yamaguchi
currently 17 years old.
It's Airi's third blog!!
I don't know how many times will I title the blog with "It's the nth Airi blog~~". Lol
Maybe I will change it when I think of an interesting title?
Yesterday was April Fools, did you play a prank on anyone?
The day already passed while I was thinking about what prank to do, so I couldn't do it this year,,,
So sad,,, 🥲🥲🥲
Today is Sunday~~~
To the people having to work tomorrow, the people having to study tomorrow, the people on spring break, you might feel depressed, but let's work hard together!!!
ーーー Weekly Shonen Magazine-san ーーー
Weekly Shonen Magazine's 17th issue
was released on March 29th (Wednesday)
Taniguchi Airi, Matono Miu, and Murayama Miu appeared on the cover and in the opening section!
The three of us did the shoot noisily ☺️☺️
Here's some behind-the-scenes story,,,
The shooting location was close to the sea and the three of us dipped our feet in and splashed around!
Going to the sea after a long time cleansed my mind~~ Lol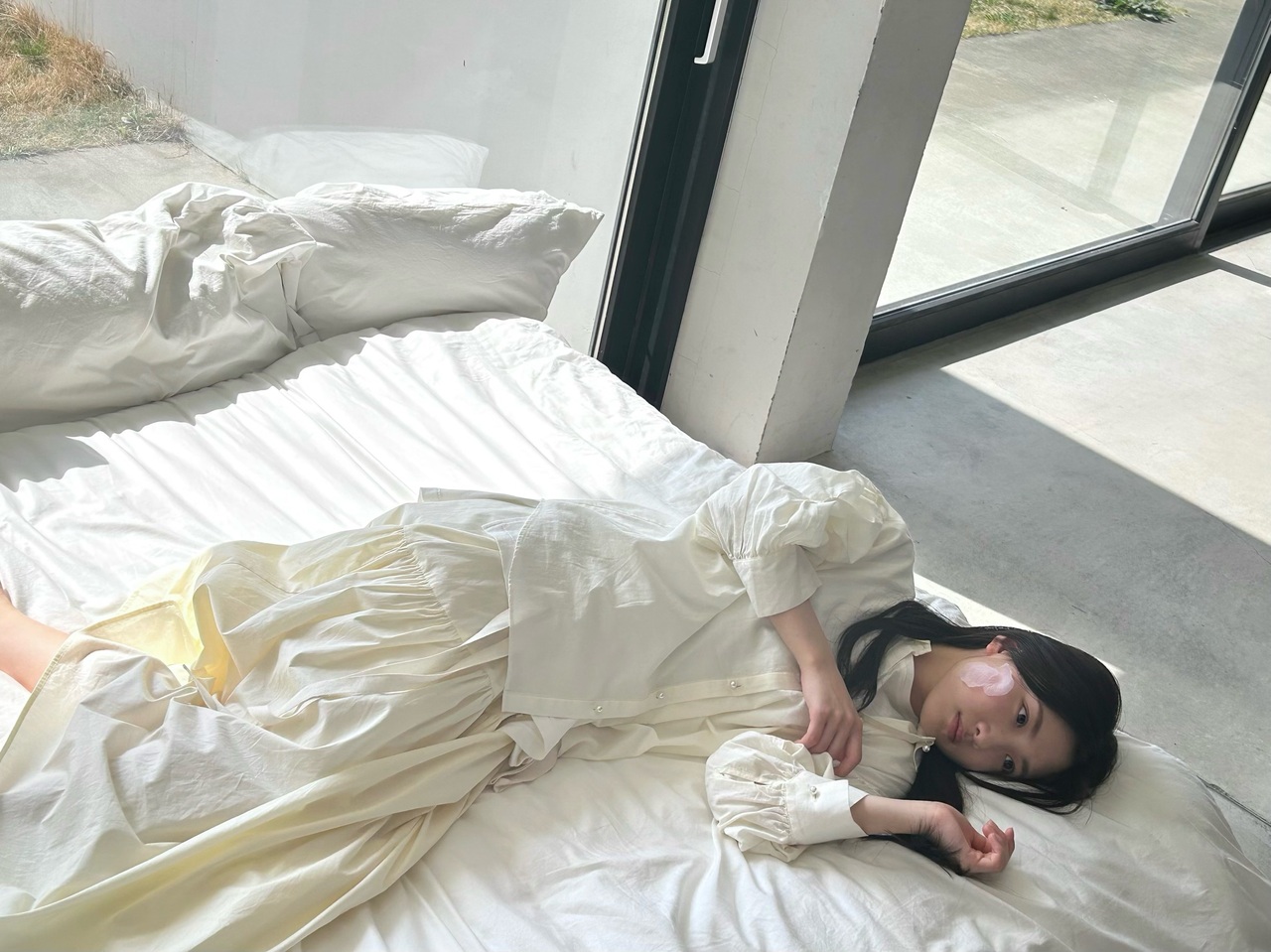 There was a cherry blossom petal on my cheek, so I stiffened up like a doll trying not to drop it 🌸
My eyes looked so dead,,,,
Please do check it out~~!!
ーーーーーーーーーーーーーーーー
Miu (Murayama Miu) also wrote about this in her blog,
Recently, I went with Miu to a plum shop!
We ate sour plums, smoked plums, grilled plums, etc.
It was delicious 🤤🤤🤤
We always end up saying "It's so good~!" every time we ate something
I bought some and took it home, so I feel like the variety of my menus at home has increased.
Lately, I've been hooked on ochazuke 🍚🍵
[T/N: Rice with tea broth]
I'm a very slow eater, so on the days when I have to go to school, my mom would try to get me to eat as quickly as possible.
My recommendation is a non-sweet french toast.
Because the bread is soft, it's easy to eat!!!
Personally, I like putting salt and pepper on french toast.
But, the quickest meal to eat is still ochazuke.
By the way, Nagi (Kojima Nagisa) is a super fast eater. By the time I finished a bite, she already ate had three bites lol
ーーー Calendar shoot ーーー
Sakurazaka46's 2023 Desk Calendar (April 2023 – March 2024) is on sale!!
The photos part and the dates part are separate, so you can look at my photos no matter the time~ 🤭🤭
Please take a look at it!!!!!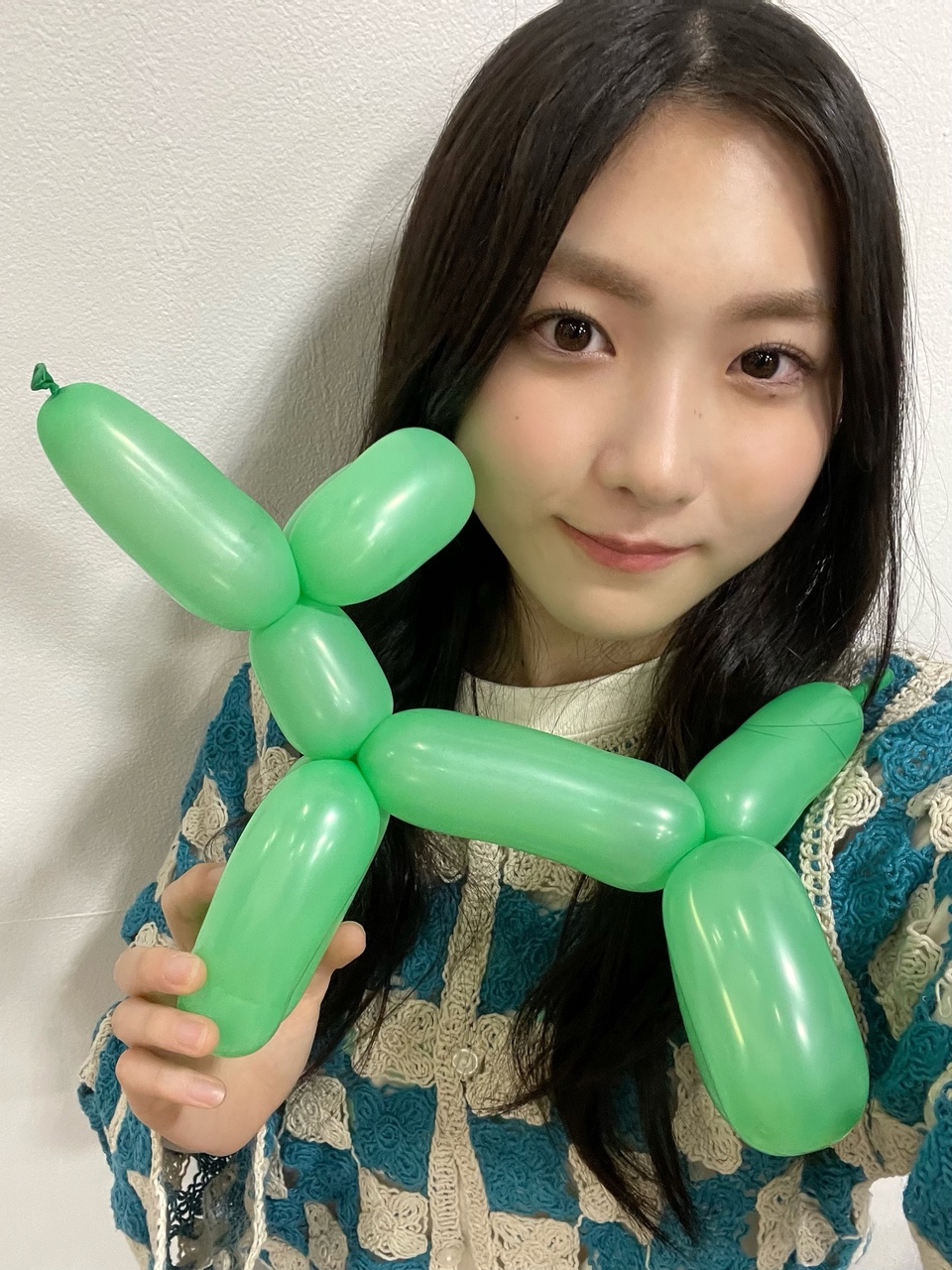 I tried making a dog from a balloon~~!
I gave one with a different color to Yuzu (Nakashima Yuzuki) the dog lover ♡♡
Apparently, she brought it home and played with it. The other day, she sent me a pic of the balloon looking a little deflated. She feels down about it, cute 💕
Everyone looked different from usual
So, please check it out 🥰
ーーーーーーーーーーーーーーーー
This is sudden, but an incident happened the other day.
I had a humidifier delivered to my house, and because I don't want to feel dry, I always kept it running.
That day, it was chilly, so I had the heater on too.
Because I had something to do, I left the house like that.
When I was done with everything, I returned home.
At that time.
A damp and warm wind hit me.
That's right.
The humidifier and heater combined, creating a hot and humid situation.
The room looked a little hazy.
That was it, my trivial incident. Lol
When I told this to Nagi, she said "That must've felt like a jungle".
That's right, because my room has some greeneries too, maybe in that situation my room was close to being like a jungle. 🌿‬🌳🌱
When I sleep, I have the humidifier on too, and when I wake up the room feels a bit cloudy.
Adjusting the humidifier sure is difficult.
ーーー Fixed camera 📸ーーー
During the free time on the Meet & Greet the other day, I got to appear on the fixed camera stream with Morita-san!!!
The other day, Riko (Endo Riko) already made her fixed camera debut with Morita-san, so I got really, really jealous, it was unbearable.
When I told Riko that, she gave me a push and said "You should try inviting her too, Airi~".
So I tried inviting her, and she gladly agreed~~ 🥰🥰
I couldn't talk well because I was nervous, but I was really happy!!!
One of my goals is to be able to call her Hikaru-san instead of Morita-san.
I haven't said this to her, so everyone please support me,,
ーーーーーーーーーーーーーーーー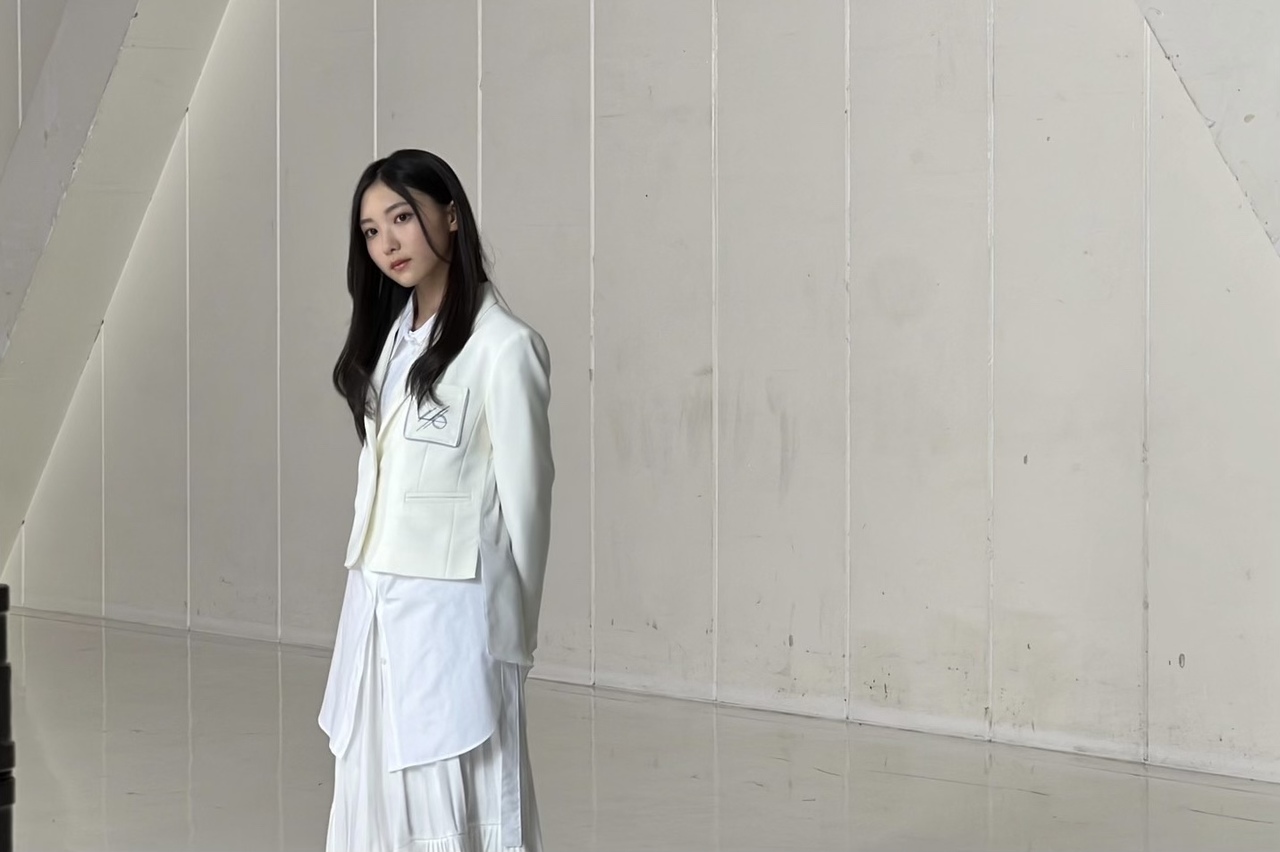 This is an off-shot from "Sakurazuki" booklet!!!
There was an embroidery of "46" on the chest, it's so cute ☺️
ーーーーーーーーーーーーーーーー
Thank you for reading until the end.
I will put the photo I took with the greeneries in my room on my next blog~~
Tomorrow is Nakashima Yuzuki's turn, who has been calling me Airi-tan lately!!
Surprisingly, Yuzu also acts clingy sometimes ♡♡
Cute, isn't she?
Look forward to Yuzu's blog!!!!
See you again~~~👋🏻👋🏻👋🏻