Long time no see, that's what I would've said but
Lately I've been appearing a lot in the blog relays so it doesn't feel long, does it?
I felt nostalgic when I saw the photos that I don't even remember taking one after another in the blogs
Felt like it was a Miu-chan week
Good evening, I'm Murayama Miu
First up is some monologue
I stopped by an accessory store for a change of pace
I picked a bracelet that had a small and pretty charm, but I couldn't put it on by myself so I laughed
On the train, I was doing my best to put it on like "oomphー!", it's beautiful so I'll show you next time
The end
Seems like June 6th marks a year since the audition was held
June 14th marks half a year since I was revealed
Just six months, already six months
I don't know which
I'm grateful to have met you
A classmate who often talks to me told me after my regular exams, "I'll just take the photo so if you want to send it then do itー I'll leave the rest to your judgment" (in a thick Kansai accent) so she took my photo for the application
My school doesn't allow bringing phones so if my teacher reads this blog they might get mad, I'm giving a one year late apology
Honestly, I didn't have a big reason for taking the audition. It's just because I was a fan of Sakurazaka that I had no choice but to take it.
But my heart did skip a beat when I read that "Sakurazaka46 new member recruitment is open"
I still remember how my heart pounded
I was so excited by the echo of "Sakurazaka46 new member recruitment is open" that I couldn't get it out of my head
Maybe God was telling me to take the audition
I'm grateful to that classmate who talked to me, it's not like I had a lot of friends or an interesting personality that would attract people, but they talked to me a lot, they're really kind
The audition that I took because of a series of coincidences
I want to yell thank you everyday
To Buddies, my family, the seniors, my genmates, manager-san,
Everyone that I had met,
And everyone that I'll meet in the future
I'm overflowing with gratitude recently
I haven't been able to show myself yet, so I'll be doing my best to show myself more and more
I'm sorry that the rate of my growth is slower than everyone else's, I'll do my best to speed it up
Please watch over me
It got heavy because I talked about the audition, I'll talk about fun things from here on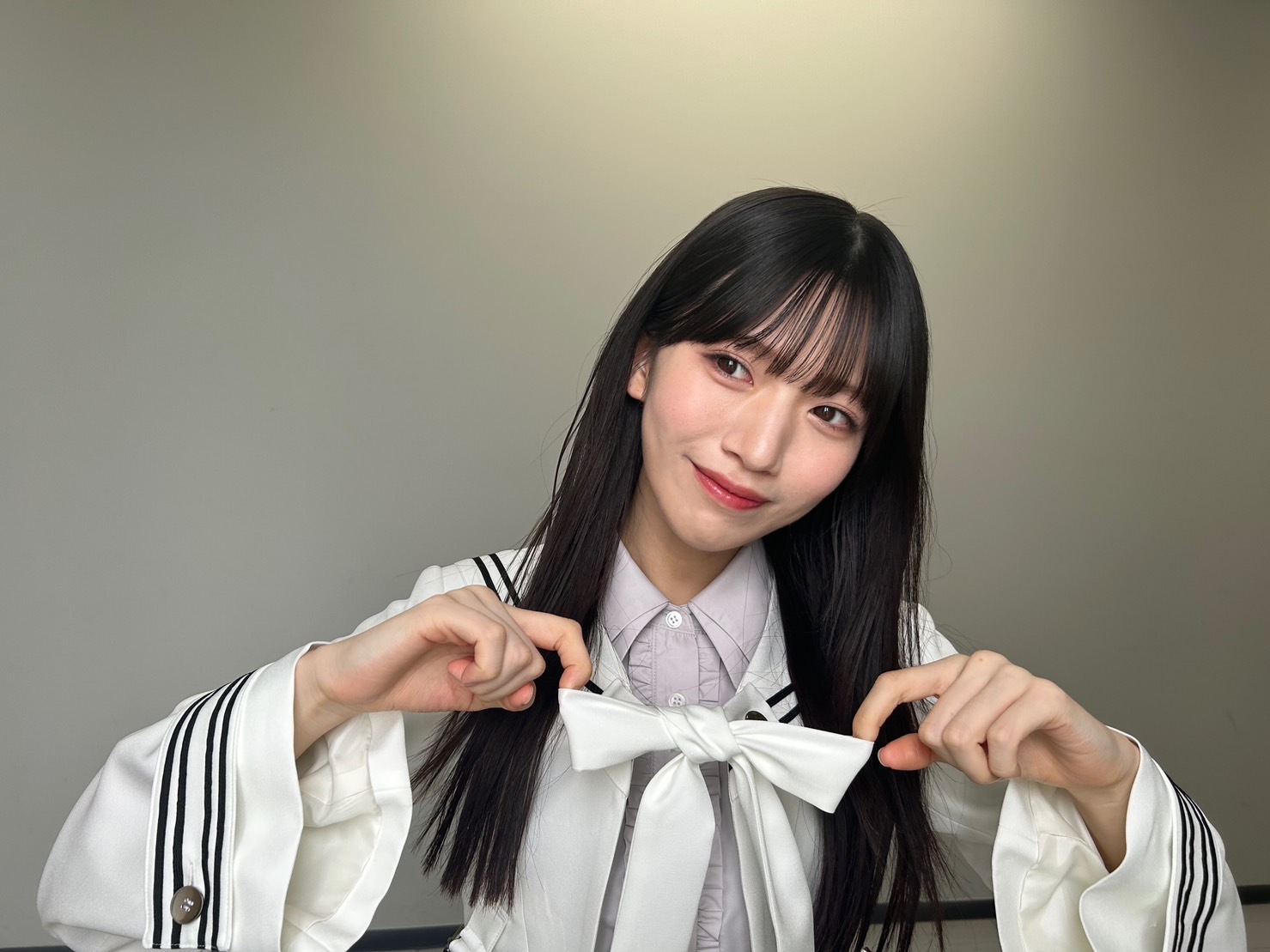 Have you seen
The new outfit and the new artist photos?
I usually only wear black clothes so wearing the white outfit felt fresh and a little embarrassing
Just like the previous outfit, the sailor outfit-like design is really cute, and I also like the wide sleeves
Another thing
I've heard people say that I give off the feeling of an older sister, but there's no one from the 3rd gen who clings to me
The youngest members are surprisingly mature, and there's no one who's little sister-like, so maybe that's why nobody is clingy
I'm not used to having someone being clingy to me, so that's good
I'm probably on the older side, so sometimes I want to pamper the younger ones, but sometimes I don't
Ah
But when I said I'm on the older side, Rika and Yuzuki-chan flatly said "What are you saying", "You're not"
When the two of them are talking, I often go to their side and leave without being able to participate in the conversation
Hmph
Letー meー inー
Also, also
A story from my middle school days
I was really bad at the self-introduction after changing classes, so there was a time when I just said "My hobby is observing people" and that's it
Were the stories fun, was it okay?
It's okay, isn't it?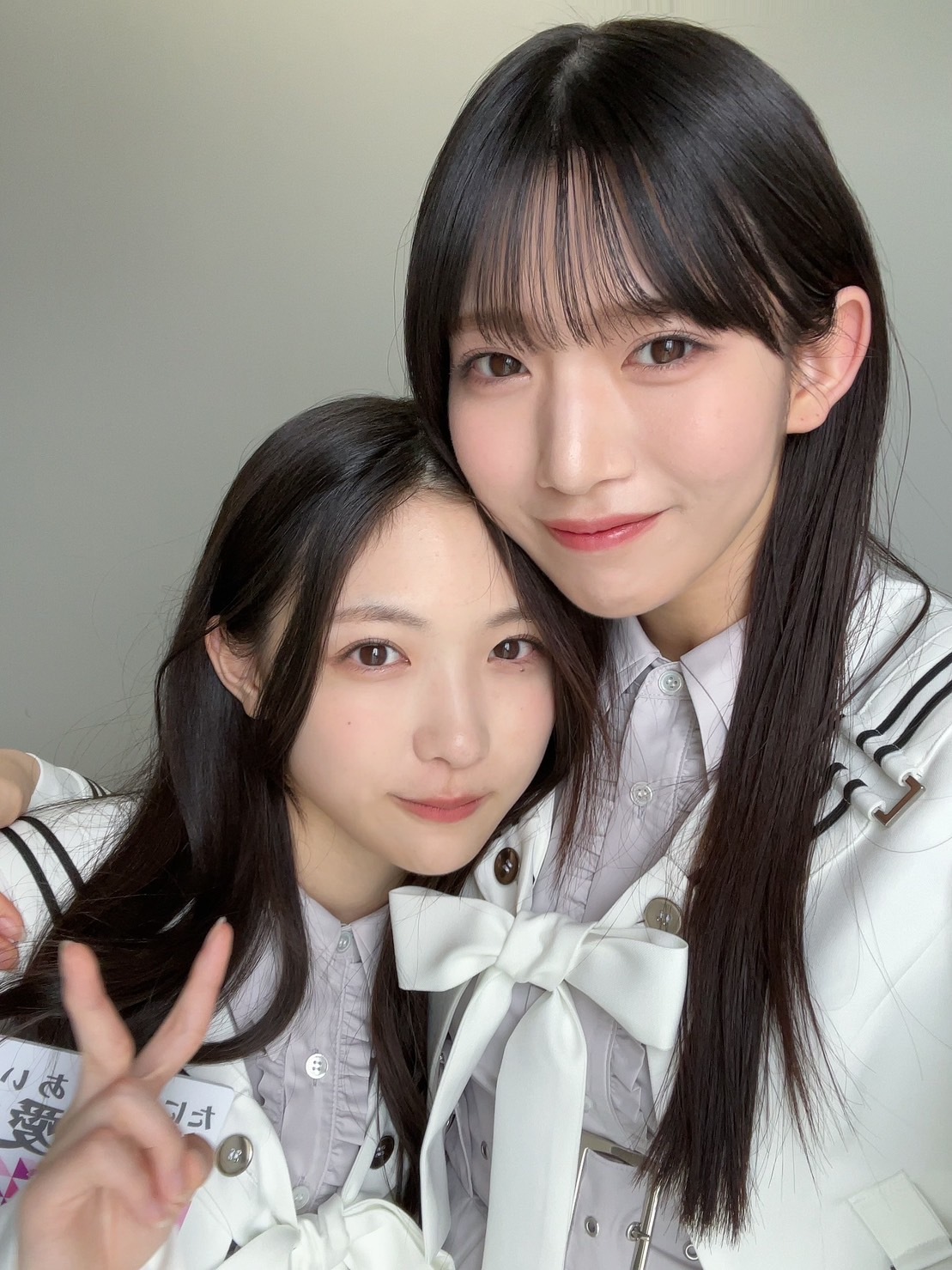 TaniYama in the new outfit
[T/N: Tani (谷) means valley and yama (山) means mountain]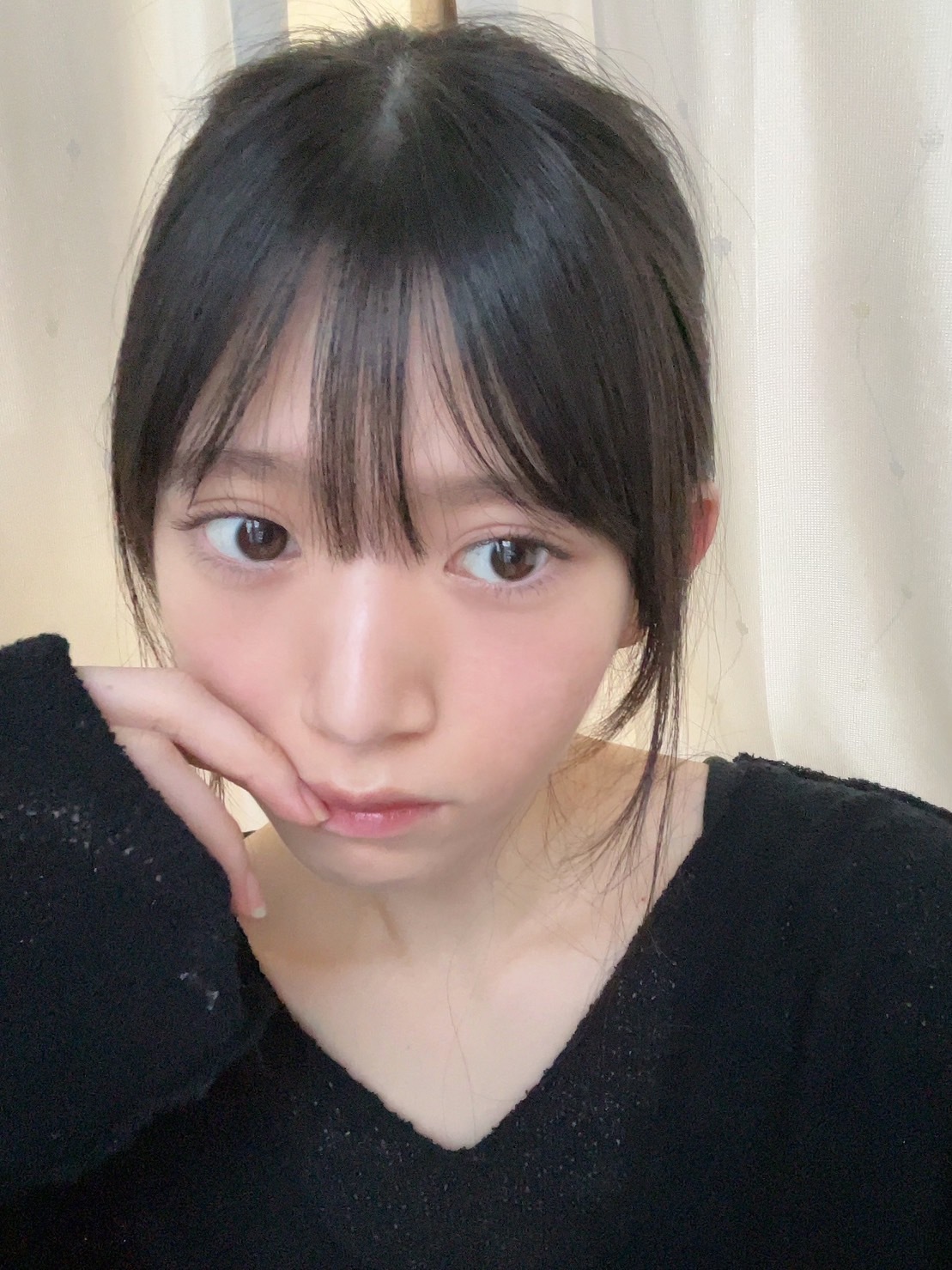 Looking sidewaysー
Black clothes again, I feel comfortable in black after all
Lastly, the usual random talks
Have you ever received a big clock to put in your room for your birthday?
I haven't
Reina gave me a big clock for my birthday
I was surprised and happy
Reina is funny
I have a lot of stories about Reina so I want talk about it little by little
When I looked through my gallery, there was a video of me surprising Riko as she turned a corner
I have a lot of videos of me surprising people
Riko put on a reaーーlly funny surprised face lol
Itoha is the queen of having a lot of useable footage, so if you point the camera at her she will do something for you
Come to think of it, I happened to see Itoha in town the day before yesterday, and when I did a little wave because she was on the other side of the street, she blew me a big kiss
I thought "What a cheerful kidーー", so cute
I like taking casual pics of the members, so the photos are piled up in my gallery, but I don't have the place to show it to everyone
I want to show you all of them at once
I wish there was a chance to do that
I just want to show you the whole folder
I will definitely show you someday, so please wait !
Come to think of it
I cut my hair to around my shoulders today
I'll post the photos after I take some
I can't hide my face with my hair anymore, and my neck is exposed, so it's embarrassing
But I'm happy
Tomorrow is Yamashita Shizuki's turn
We made a plan to go eat yakiniku
I'm hungry so let's go soon, Shizuki-san